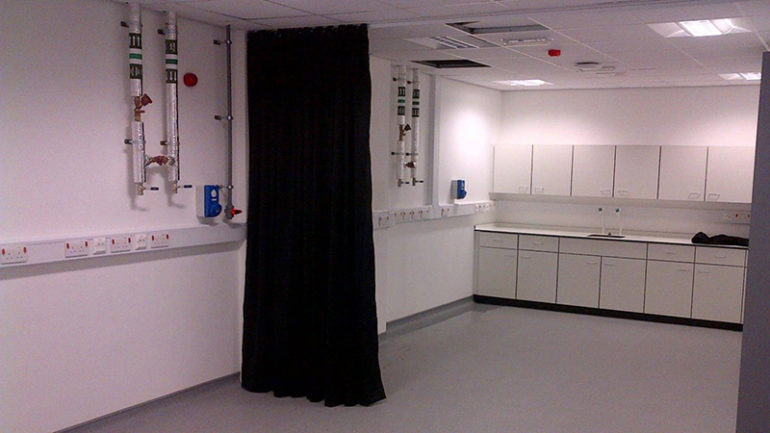 At Corona Contracts, we've been designing, manufacturing and supplying a huge range of curtain and blinds systems to commercial customers for over a decade. Whilst many of our products are designed to control light, glare and solar heat gain from glass windows, we also create bespoke room divider curtains useful in a variety of different settings.
Room divider curtains are a cost effective, practical means for breaking up a large space into more manageable portions. They could take the form of a single curtain, a two panel room divider curtain, or a flexible room divider curtain system which creates multiple useful divisions within a much larger space.
Room divider curtains for commercial spaces
Customers interested in our room divider curtain systems come from a number of different backgrounds. Room divider curtains for classrooms enable drama studios to section off smaller groups of students into private rehearsal areas. Room divider curtains for changing rooms ensure privacy at fashion events and in shops, office room divider curtains offer a quick means to section off areas for privacy or meetings while maintaining space that can be used for larger collaborations, and hospital room divider curtains can be manufactured with anti-bacterial specifications to ensure health and safety compliance and our room divider curtains can be engineered to meet BS5867 fireproofing regulations to ensure additional safety criteria are met or exceeded.
Motorised room divider curtains
We offer a number of different means of operation for our room divider curtains including custom curtain track systems which offer thousands of hours of trouble free operation. These systems are built using the highest quality components which we have found offer the best performance during frequent commercial use. We offer a number of remote control and motorised solutions too, which can be useful when creating room divider curtains for event spaces. These systems allow for seamless, near silent operation and creating a luxury, professional effect.
Room divider curtains styled to fit your business
By designing controlling the entire design, manufacture and installation process in house, we ensure that our products are always fit for purpose. Just let us know the dimensions of your space and the requirements of your room divider curtains and we'll create the perfect system for you. We can create room divider curtains for businesses in a range of different fabrics, colours and styles. If you are not sure what would be best, our designers are on hand to offer practical advice to help you decided. Alternatively, we often work alongside our client's designers or architects to ensure our curtains match closely to the aesthetic of a business.
Sound proofing and blackout room divider curtains
We can add technical design features to our room divider curtains to your specification. When room divider curtains are installed in large spaces such as convention centres and community halls, we find that adding sound deadening material to the construction of the curtain can create a noticeable reduction in ambient noise. Where privacy cannot be compromised, such as in changing rooms, we can design room divider curtains to blackout specification. By drawing on our wider expertise from years of curtain fabrication, our clients receive better quality products.
We are proud to have built up years of experience carrying out contract work, making us confident in our ability to turn projects around on time and on budget every time. Get in touch to discuss the specification of your room divider curtains today, the team at Corona Contracts would be happy to help.
---
Frequently Asked Questions