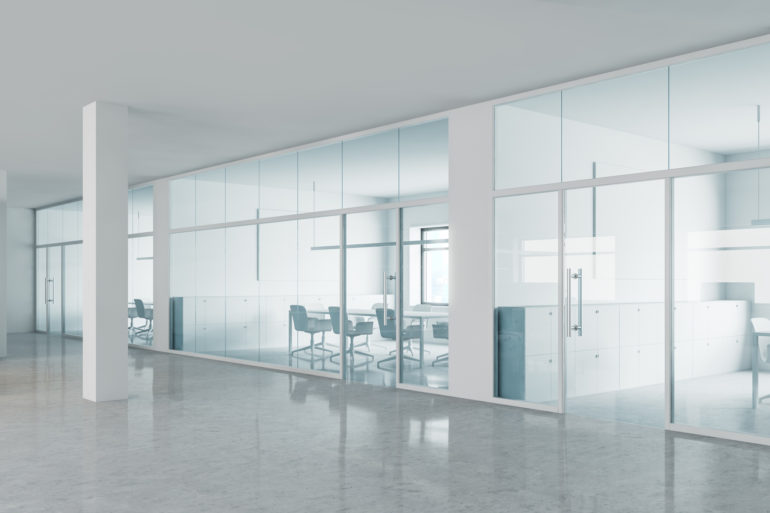 At Corona Contracts we design, manufacture and install a huge variety of curtain systems for office environments. Whatever unique requirements you may have, we can provide the perfect solution for your workspace.
Design
We can work with you from the early design stages, consulting on the effect you wish to achieve and printing custom fabrics to create exactly the look you want. As we design, print and manufacture curtains ourselves, we can fine tune the practical and aesthetic aspects of the design to put together the perfect solution for you. Our extensive range of Mottura components, engineered in Italy, enable us to build many types of curtain track systems. When combined with our range of fabric stock and the ability to print original, custom designs, your options are incredibly wide. We can work with you to create stylish, branded curtains that match your business, or stripped back designs that have a big impact in a minimalist space. Often taking up a significant surface area, the impact curtains have on the feel of a space should not be underestimated.
Manufacture
To ensure that you have the best possible blinds for your situation, we manufacture both the curtain and curtain track systems ourselves. We can do this meet a huge range of style, application and budget constraints. We can help you create curtains that are suitable for windows of any size, with using systems that allow for long, continuous tracks or drops from high ceilings. In addition to this we can create motorised curtain track systems to allow you to remotely and automatically control lighting.
Installation
Our installation process is well-established, backed by years of experience fitting in all kinds of environments and compliant with stringent health and safety standards. We have worked with many different types of organisation over the years. Of course, the safety of everyone on site is always a top priority. We will always carry out a full risk assessment before beginning work in your office environment. In cases where specific or unusual challenges arise we will discuss these with you before work begins and take any additional precautions necessary.
We are renowned for carrying out work in manner that is most convenient for you. We are dedicated to completing projects on time and on budget, so that you can resume your normal business operations in the time frame you expect. Naturally, we take precautions to keep your premises protected and tidy while we work and we always clean up after ourselves.
The benefits of well made curtains
Curtains offer a range of welcome benefits to offices. In larger spaces, reflected sound can boost the level of background noise and cause disturbances. The range of curtains we offer can be adapted to dampen reflected sound and restore a sense of calm to a space.
Curtains also offer an economic benefit by increasing insulation in areas vulnerable to heat loss. Much of the heat in a room is lost through the windows, which is where our lined office curtains can offer a stylish solution. By trapping a layer of air in between their fabric, our curtains will create an insulated heat loss barrier that keeps your space warmer for longer, reducing heating costs in an environmentally friendly way. Clients with office premises within older or listed buildings particularly benefit from this.
Modern office environments often have computer screens and presentation areas which are in constant use. Glare from the sun, or even from overhead strip lights, can frustrate their use. Having to squint, adjust screens or move around to find a better viewing angle takes time, diminishes productivity and doesn't look great. Our office curtains can solve these problems by preventing sunlight and reflections from reaching your screens or presentation areas. Our bespoke services means your curtains will be well fitted, so you can be confident light won't eventually work it's way in and your office will remain focussed.
Motorised office curtains
We offer remote control and motorised curtain fittings which can be particularly beneficial in offices with high ceilings or windows which are difficult to access. They can be programmed to respond to ambient light levels or simply set to automated schedules throughout the day and left the operate themselves. Presentation rooms work well with remote control office curtains too, looking highly professional and being extremely practical. To learn more about the Mottura motorised curtain track systems we offer, click here.
Blackout curtains
In offices which suffer from particularly harsh sunlight, or work spaces that require stringent limitations on light, our blackout curtains can offer a solution. With more and more offices utalising projectors and other equipment that is effected by ambient light, this is an area that is often overlooked. We will carefully assess the fitting space and tailor the curtains to an exact fit, meaning you can be sure all light will be kept out. In screening and presentation spaces this is often most welcome. To discover more about the Mottura blackout blinds systems we offer, click here.
Office curtains that last
Office environments have to stand up to heavy, regular use. We use only the best quality fabrics and fittings to ensure that your office curtains are not easily marked and offer an enhanced lifespan. Our workman ship is of the highest calibre to ensure that they are built to withstand the needs of a commercial environment. Because we control every stage of the installation, from design to aftercare, we know there are no weak points in the process, meaning you get the best value for money and office curtains that will really last.
If you're considering curtains for your office or workplace Corona Contracts can provide the expert help you need. We'll listen to you and tailor our curtains to your requirements to find the best solution for you.
Get in touch today for our complete office curtain service.