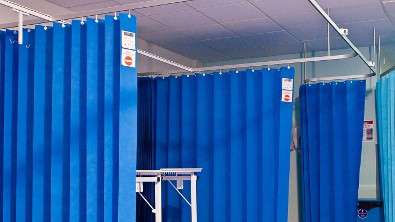 Corona Contracts design, manufacture and install disposable curtains. These are the fastest, most efficient and hygienic alternative to traditional cubicle curtains. Designed to fit to the majority of existing tracks, these curtains are easy for the end user to install and maximise hygiene.
We work with a huge variety of businesses across the north west including schools, cinemas and offices. One of the more specialist curtain products we manufacture are disposable curtains for the medical industry. Particularly popular with our hospital clients, both public and private, disposable curtains provide a privacy and safety solution for businesses where there is absolutely no room for compromise on hygiene.
Available in a range of colours, our disposable medical curtains are designs for single use so they can be discarded and replaced as necessary. They are lightweight, easy to handle and are also easy to install and replace so do not drain time and resources when new curtains need to be installed.
As we design and manufacture all of our products on site at our facility in Preston, we can ensure industry leading quality from start to finish for every order. We'll keep the specifications of your order to hand so that when you need replacements or updates we can quickly roll these out and deliver them without hold ups to your daily operations. We can manufacture disposable medical curtains to a wide range of sizes and specifications, so don't hesitate to ask if you have specialist requirements for your installation. We also have extensive experience designing and installing curtain track systems, so if you would like a fully bespoke installation simply speak with the team and we'd be delighted to help.
Health and safety
Proper observation of health and safety practise is at the core of everything we do, but never more so than with out clients in the public and medical sectors. Where necessary we'll carry out risk assessments and of course arrange your site visit and installation for a time that is the least disruptive to your business and its visitors. Whilst installing your fittings all necessary signage will be displayed and our trained technicians always clear up completely after themselves, leaving no trip hazards or foreign materials behind.
Disposable curtains save time, high labour and additional costs associated with the laundering of standard fabric curtains. Made from 100% polypropylene which has one of the lowest environmental impacts of any material, synthetic or manmade, our disposable curtains are ideal for nursing homes, hospitals, doctors surgeries and medical or care facilities. We stock a range of colours, but if the colour of your building or brand is not included in the below we'd be happy to source others for you.
For further information or to place an order, contact our team today.
All of our products come with their own individual guarantees. Our installations are of the highest quality and do not generally require maintenance. If you feel your installation requires servicing we would be happy to help, so please contact us.
As much information as possible will help us (and you) to avoid any surprises! Your location, the size of the area to fitted, the access available to the area, the times the area can be accessed, the desired result e.g. sound insulation, blackout, your preferred material and finish, your budget, your deadline for completion. Please call us for a chat if you are unsure or would like advice.
We provide a timescale with our quote. We aim to complete all installations as quickly and efficiently as possible, but please remember that in order to provide the highest possible standard of installation and reliability some projects can take several days to complete.
We have completed many successful projects in Lancashire, Cumbria, Cheshire, Merseyside, Greater Manchester, Preston, Liverpool, the North West and throughout the UK.
Our expert fitters are qualified to ensure health and safety compliance to the highest possible standard, both in the installation environment and in the performance of the finished product. We are also a CHAS accredited company.
In the vast majority of cases we can offer a fixed quote. Only in rare circumstances where the installation becomes more challenging than originally planned may we need to increase our cost. Rest assured we aim to be entirely transparent in this regard and we will discuss any possible issues which may may arise before a project begins.
Colour Swatches available are shown here
Privacy for patients is actually enhanced using disposable systems when compared to most conventional fabrics.
Yes the disposable curtains are made from 100% polypropylene which has one of the lowest environmental impacts of any material – synthetic or traditional.
No. The curtains are manufactured from a durable disposable and completely recyclable polypropylene fabric which inhibits bacteria growth.
Three sizes of curtain are available:
Small: 2.4 metres long (1.8mtr track length)
Medium: 4.8metres (3.6 mtr track length)
Large: 7.2 metres (5.4 mtr track length)
You can use the normal clinical waste bins at your facility.
The curtains are durable and have shown that they can stay hanging for a year or more however we would recommend that each hospital carries out its own assessment to set the frequency at which the curtains should be changed in different areas.
Each curtain has a self audit label so that you can easily see when it was last changed and can be included within your existing infection control procedures
Disposable curtains comply with the same fire retardancy standards as conventional curtains BS 5867 Part 2 type C. Every batch of every colour supplied is tested.
The use of disposable curtains provides a cost effective solution to the management of hospital curtains:
No curtain laundry
No capital outlay for curtains
No disruption to ward area during change of curtains