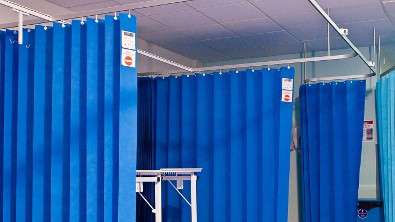 Corona Contracts design, manufacture and install disposable curtains. These are the fastest, most efficient and hygienic alternative to traditional cubicle curtains. Designed to fit to the majority of existing tracks, these curtains are easy for the end user to install and maximise hygiene.
We work with a huge variety of businesses across the north west including schools, cinemas and offices. One of the more specialist curtain products we manufacture are disposable curtains for the medical industry. Particularly popular with our hospital clients, both public and private, disposable curtains provide a privacy and safety solution for businesses where there is absolutely no room for compromise on hygiene.
Available in a range of colours, our disposable medical curtains are designs for single use so they can be discarded and replaced as necessary. They are lightweight, easy to handle and are also easy to install and replace so do not drain time and resources when new curtains need to be installed.
As we design and manufacture all of our products on site at our facility in Preston, we can ensure industry leading quality from start to finish for every order. We'll keep the specifications of your order to hand so that when you need replacements or updates we can quickly roll these out and deliver them without hold ups to your daily operations. We can manufacture disposable medical curtains to a wide range of sizes and specifications, so don't hesitate to ask if you have specialist requirements for your installation. We also have extensive experience designing and installing curtain track systems, so if you would like a fully bespoke installation simply speak with the team and we'd be delighted to help.
Health and safety
Proper observation of health and safety practise is at the core of everything we do, but never more so than with out clients in the public and medical sectors. Where necessary we'll carry out risk assessments and of course arrange your site visit and installation for a time that is the least disruptive to your business and its visitors. Whilst installing your fittings all necessary signage will be displayed and our trained technicians always clear up completely after themselves, leaving no trip hazards or foreign materials behind.
Disposable curtains save time, high labour and additional costs associated with the laundering of standard fabric curtains. Made from 100% polypropylene which has one of the lowest environmental impacts of any material, synthetic or manmade, our disposable curtains are ideal for nursing homes, hospitals, doctors surgeries and medical or care facilities. We stock a range of colours, but if the colour of your building or brand is not included in the below we'd be happy to source others for you.
For further information or to place an order, contact our team today.