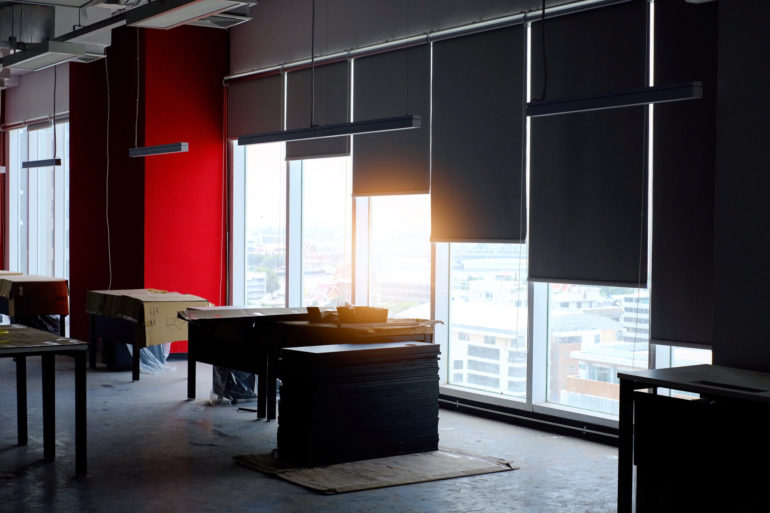 Have you considered the benefit of installing remote controlled blinds in your business space? Whether a university auditorium or a top of the line conference suite, Corona Contracts have the specialist knowledge and industrial expertise to tailor the perfect custom solution.
Not only do motorised blinds lend an air of professionalism to a space, their low maintenance, low energy design means they're a joy to use and are appropriate for a huge range of venues.
It seems everything is going wireless these days and indeed motorised solutions are becoming increasingly common. It's easy to see why; beyond their obvious convenience our motorised solutions completely do away with any issues of restricted access to hard reach or awkward areas.
Benefits of remote controlled blinds
But motorised blinds don't just solve practical problems, they also impart a cutting-edge professional feel to a space and provide a time saving boost to productivity. In fact, our motorised solutions can be completely automated, so you'll never even have to lift a finger. Our motorised solutions can also be installed to blackout or specific acoustic specifications if required, broadening their application further into theatre or cinema spaces and beyond.
To view our range of Mottura motorised curtain track systems, click here.
Traditional thought might be that motorised blinds would only be suitable for certain spaces, perhaps limited by the need for simple, straight line installations or impractical due to the size or drop length of the installation. With Corona Contracts' solutions such things need not be a problem. At Corona Contracts we specialise in custom and bespoke solutions for your space, whatever the challenges it presents. Many of our client's businesses are based in historical buildings with high ceilings or spaces with unusual access requirements. One of the advantages or working with Corona Contracts is our ability to tailor our installations to whatever space we work in. Whatever the challenges your space poses, we can devise, create and install a system which works.
Installation of remote controlled blinds
Having worked with client's from a number of industries, we understand the pressures businesses face when factoring in large fixture and fitting installations whilst continuing to remain open for business. Our installation teams are some of the most skilled available, you'll find them polite, punctual and tidy. We create schedules and stick to them, so barring any unexpected events outside of our control, we complete our work on time, at a time that suits your business. If you require work to be carried out at unusual hours or completed by a certain time, we'll add this to the contract and ensure that it is addressed.
We will listen, plan and implement solutions to your absolute satisfaction. What's more, our motorised solutions consume an astonishingly low amount of power and boast guaranteed reliability. So don't hesitate to get in touch with us here at Corona Contracts, whatever the requirements of your space; finding the perfect fit for your space is our passion.