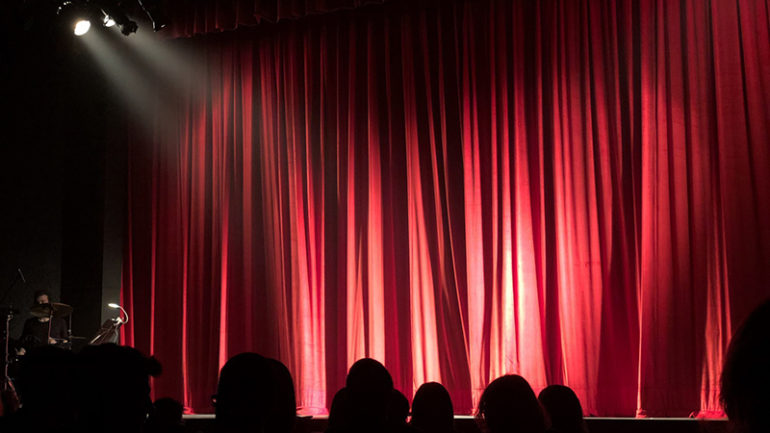 Corona Contracts are specialists in the manufacture and installation of theatre, acoustic and stage curtains. Utilising the best quality curtains tracking, curtains can be operated manually or electrically. Track systems can be curved to suit specific site requirements and to carry curtains of any size.
Cinemas, theatres, gig venues, school halls and other performance spaces rely on stage curtains as a vital part of their daily operation. Stage curtains not only create a smart and professional visual impact, but also minimise sound reflections and create separation between different areas within large event spaces. They represent a significant investment for these businesses and need to be built to perform and last for many years. Corona Contracts have the knowledge, equipment and experience to meet this challenge.
The Corona advantage
One of the advantages of working with Corona Contracts is that we control the entire manufacturing and installation process from start to finish. All of our stage curtains are designed on site at our headquarters in Preston by the same team who then fabricate them. We work with you to understand the technical requirements of your space and then adapt our fabrication process to create the best performing product.
When we have finished designing and creating your stage curtains we then arrange a suitable date for installation. We've worked with many different business and fully appreciate the need for any contract and building maintenance work to be completed in a way which doesn't jeopardize the daily operation of the establishment. To this end, we work with you to find them most suitable time to carry out the install and stick to our agreed schedule, arriving and completing work on time so long as no unexpected challenges arise.
Since we carry out the installation of your stage curtains ourselves you can be sure that you will receive a truly outstanding fit and finish. As we design and create the stage curtains ourselves, we know exactly what fitment strategy will achieve the most reliable and lasting results. We often work in older buildings with unusual designs or challenging access requirements, so rest assured that no matter how unique your situation we have the means and patience to achieve the best installation possible.
The finest materials
The components and materials we use to create our stage curtains are of the highest standard, sourced from Mottura, the industry-leader. We choose Mottura as, after many years, we are confident they offer the highest performance available today. In the extremely unlikely event that anything does go wrong, you will find our aftercare service to be one of the most comprehensive and dedicated available.
We have a huge range of fabrics available to suit your decor and our experienced installation team fit your new curtain system to the highest specification. All of our stage curtains conform to above and beyond all relevant safety standards appropriate for their installation including flame resistance. By using our motorised tracking systems you can enhance the functionality of your stage, any potential ligature hazards can also be negated and completely automated operation is also possible.
To get started with creating dramatic stage curtain solutions, contact our team today.
We are happy to cater to any non-standard requests, please give us a call to discuss. We can provide a printing service to apply your company's logo or other desired pattern to a fabric.
Please contact us to discuss, if repair is impossible we may be able to fit replacement parts.
All of our products come with their own individual guarantees. Our installations are of the highest quality and do not generally require maintenance. If you feel your installation requires servicing we would be happy to help, so please contact us.
As much information as possible will help us (and you) to avoid any surprises! Your location, the size of the area to fitted, the access available to the area, the times the area can be accessed, the desired result e.g. sound insulation, blackout, your preferred material and finish, your budget, your deadline for completion. Please call us for a chat if you are unsure or would like advice.
We provide a timescale with our quote. We aim to complete all installations as quickly and efficiently as possible, but please remember that in order to provide the highest possible standard of installation and reliability some projects can take several days to complete.
We have completed many successful projects in Lancashire, Cumbria, Cheshire, Merseyside, Greater Manchester, Preston, Liverpool, the North West and throughout the UK.
Our expert fitters are qualified to ensure health and safety compliance to the highest possible standard, both in the installation environment and in the performance of the finished product. We are also a CHAS accredited company.
In the vast majority of cases we can offer a fixed quote. Only in rare circumstances where the installation becomes more challenging than originally planned may we need to increase our cost. Rest assured we aim to be entirely transparent in this regard and we will discuss any possible issues which may may arise before a project begins.
Our modular systems can be used to cater to all kinds of large or unusually shaped projects. The limitations are dependant on the system, for example for curtain tracks the weight of the curtain may be what restricts the length. This is why we offer a bespoke design service to ensure that we create and fit the system that best meets your needs.
Absolutely, please contact us advising of a delivery address and the fabrics you are interested in. Alternatively, please contact us for professional advice on materials suitable for your project.
Our expertise is in large commercial projects. However, if you feel you have a private project which may be suitable please get in touch to discuss.
These disposable curtains have been developed to fit directly to the vast majority of cubicle curtain track currently in use. There is no need for costly modifications to your track.