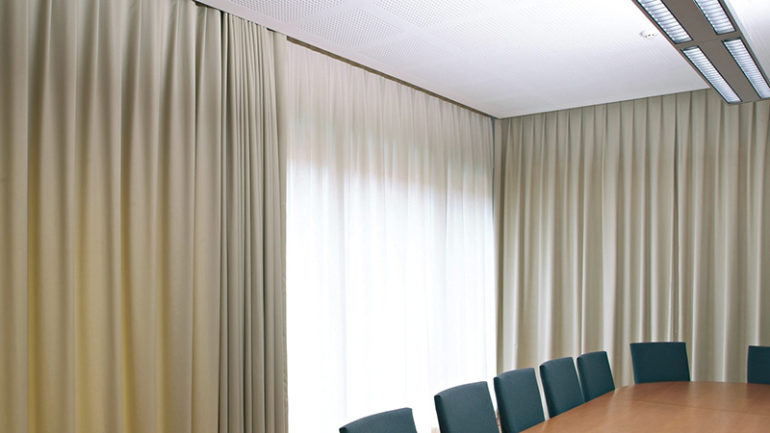 Corona Contracts specialise in the design and installation of motorised curtain track and blinds systems for all kinds of environments.
Our motorised curtain track systems are extremely reliable and can be customised to the exact specification of your business or institution. If you're currently considering an upgrade to the curtain fixtures and mechanisms in your work space, motorised systems offer many advantages over alternative options.
Advantages of motorised curtain tracks
Hard to reach areas tend to reap major benefits from motorised curtain track systems. Often in larger indoor spaces such as theatres, curtains hang from extremely high suspension points. Large, thick curtains can cause access issues when they need to be controlled manually, so a motorised system is much more efficient in that kind of situation. What's more, with no need for a manual drawstring, any possible health and safety issues arising from ligature hazards are nullified, which is often a prerequisite for our clients in the health or education sectors.
Security is essential in all professional and public environments. It's vital to protect expensive, unique equipment and personal information stored in the workplace. Motorised curtain track systems offer a considerable upgrade in workplace security by presenting the illusion of occupancy every day, even during weekends and public holidays. This is achieved through automated systems which control curtain opening and closing at set times each day, several times a day if required. The security benefit is particularly useful for businesses whose premises are not consistently occupied or operate outside of regular office hours. Motorised systems can even be remotely controlled via an internet connection, meaning a business owner could be hundreds of miles away and still be able to operate their fixtures remotely.
Automated operation can also be triggered by lighting conditions. If an area has an issue such as excessive heat from the sun or glare, the curtain tracks can be triggered to operate when the threshold level is reached. Customers working in a presentation or public-facing environment are particularly appreciative of this as it offers an extremely convenient solution with minimal distraction to clients. Over time, businesses also benefit from a productivity boost since employees are no longer occupied by the need to leave their workstation and manually operate curtain fixtures!
Our Installation Process
We have extensive experience fitting motorised track systems in offices, schools, theatres, hospitals and just about any other professional space you can think of. Our installation team will arrange a suitable date and time to carry out the installation process. As experienced contractors we understand the need to keep to stated times for project delivery and completion. You'll find our installation teams to be highly conscientious, professional and safe – all relevant health and safety practises will be followed, and signage will be displayed when required. We will never leave a mess behind after an installation.
By keeping our installers in house, we are able to ensure the installation team have a clear grasp of the scope of the project and can provide a truly premium, flawless service every time. If our clients have any questions about their installation, or require repairs or modifications, they benefit from our best-in-class aftercare and support.
If you are considering a motorised curtain track system, contact our team today.