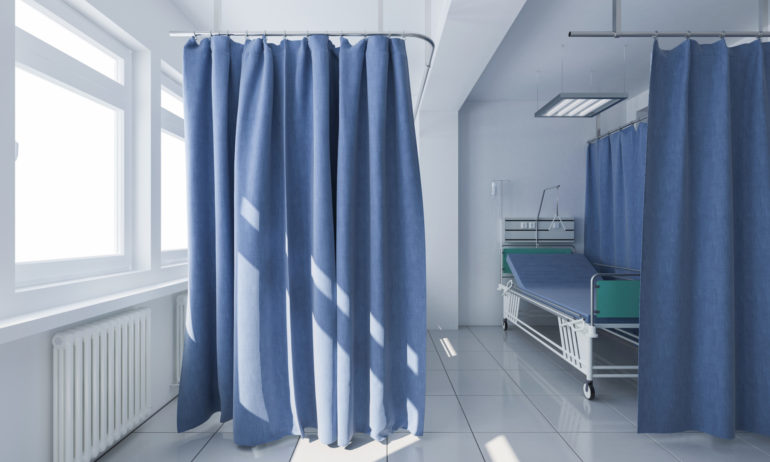 As a trusted contractor and supplier to the NHS, our Health Service Division is permanently engaged in the supply and installation of hospital cubicle tracks, medical curtains, blinds and insect screens to this sector.
The medical curtains we design, manufacture and install are a unique product, designed to adhere to the stringent and specific health and safety requirement of medical facilities. Our medical curtains are made to the most exacting standards so that when absolutely no compromise on hygiene can be made, we rise to the occasion with a product that performs.
Quality medical curtains from Corona Contracts
How can we be so confident in the quality of our medical curtains? We design and manufacture all of our products in house at our facility in Preston, which means we control every stage of the product pipeline. Because we don't outsource anything, we monitor each step of the process and easily catch any possible problems or errors before they make their way to the final product. What's more, we've been doing this for many years, which has given up time to refine and test new techniques before arriving at what we believe is the best possible workflow for each products.
Health and safety in our work and our products
Out medical curtains are designed to adhere to a high standard of health and safety and can be made bespoke to meet any non-standard requirements that your facility may have. It is not just our products, however that follow these high standards. Our engineers always follow best practices when working in public and medical spaces. Risk assessments will be carried out where needed and correct clothing, signage and identity information will be displayed at all times if required by the space in which we're working. We understand that medical facilities may require service work to be completed outside of regular office hours and always discuss these requirements with our medical clients so as to cause the least inconvenience to their daily operation. Of course, we will not bring loud, distressing or dangerous machinery into any medical facility and will thoroughly clean up after work has been completed.
Understanding the technical requirements
We have a clear understanding of the "anti-ligature" requirements in hospitals and schools along with an awareness of the need to provide "wipe clean" and "anti-MRSA" fabrics in vulnerable areas. Our installations always conform to the relevant health and safety standards appropriate to their installation including proper flame resistance. The shape and size of the install can be completely tailored to suit, meaning that specialist and non-standard areas such as operating theatres can be fitted without issue. Remote and automated operation can also be set up for areas where access is difficult or touch-based contamination may be an issue.
Get in touch today for experienced assistance in the supply, manufacture and installation of blinds for medical environments.
All of our products come with their own individual guarantees. Our installations are of the highest quality and do not generally require maintenance. If you feel your installation requires servicing we would be happy to help, so please contact us.
As much information as possible will help us (and you) to avoid any surprises! Your location, the size of the area to fitted, the access available to the area, the times the area can be accessed, the desired result e.g. sound insulation, blackout, your preferred material and finish, your budget, your deadline for completion. Please call us for a chat if you are unsure or would like advice.
We provide a timescale with our quote. We aim to complete all installations as quickly and efficiently as possible, but please remember that in order to provide the highest possible standard of installation and reliability some projects can take several days to complete.
We have completed many successful projects in Lancashire, Cumbria, Cheshire, Merseyside, Greater Manchester, Preston, Liverpool, the North West and throughout the UK.
Our expert fitters are qualified to ensure health and safety compliance to the highest possible standard, both in the installation environment and in the performance of the finished product. We are also a CHAS accredited company.
In the vast majority of cases we can offer a fixed quote. Only in rare circumstances where the installation becomes more challenging than originally planned may we need to increase our cost. Rest assured we aim to be entirely transparent in this regard and we will discuss any possible issues which may may arise before a project begins.
Colour Swatches available are shown here
These disposable curtains have been developed to fit directly to the vast majority of cubicle curtain track currently in use. There is no need for costly modifications to your track.
No. The curtains are manufactured from a durable disposable and completely recyclable polypropylene fabric which inhibits bacteria growth.
Three sizes of curtain are available:
Small: 2.4 metres long (1.8mtr track length)
Medium: 4.8metres (3.6 mtr track length)
Large: 7.2 metres (5.4 mtr track length)
The curtains are durable and have shown that they can stay hanging for a year or more however we would recommend that each hospital carries out its own assessment to set the frequency at which the curtains should be changed in different areas.
Each curtain has a self audit label so that you can easily see when it was last changed and can be included within your existing infection control procedures