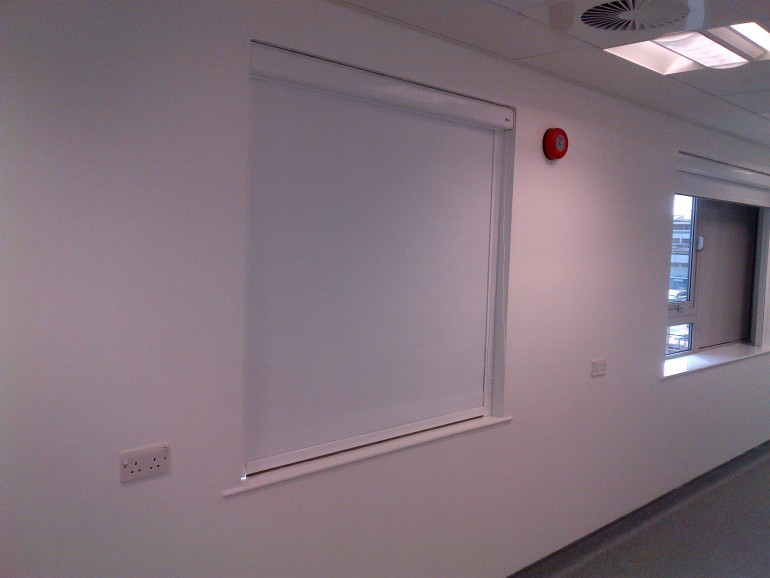 Blackout Blinds Lancashire Supply and Installation Service
At Corona Contracts, we offer a supply and installation service for Lancashire blackout blinds. We control each step of the manufacturing and installation process, giving us complete control over delivery times and costs. We work closely with clients in order to provide bespoke products for their specific business or institution, making us the go-to choice across the country.
There are many advantages to blackout blinds. The first and most obvious is how effective they are at blocking light from entering a room. If this is a priority for you then this type of blind is essential. Whether you are fitting out an office or presentation room with screens and projects, or require blinds for an extensive residence building, Corona Contracts can help you find the right solution.
Blackout blinds design, installation and manufacture Lancashire
Corona contracts are specialists in creating blackout blinds solutions for commercial clients. We work closely with both public and private sector institutions to ensure that blinds are made and fitted to the highest of standards. Everything we make is create by our in house team in Preston, Lancashire.
We work closely with our clients to design the best solution for your needs. This means taking into account the practical requirements for your space, how you use it and the look you want to achieve. We can adapt our services to fit a wide range of budgets which is aided by the fact that can control manufacturing and installation costs.
The blinds that we build, using Mottura components, are of the highest quality. By drawing on our extensive stock of fabrics and materials, as well as printing custom designs onto your blinds, we can work with you to find the right look and feel for your blinds.
Once created, we offer a complete installation service. Well practiced at meeting health and safety requirements, and working to tight time constraints, our experience team provide an out standing level of workmanship. In all situations, we take care to minimise disruption and be courteous, so of course we clean up after ourselves ensure you are happy with the results. We take pride in the quality of work that we carry out and this carries on into the level of after care that we continue to provide our clients after the work is completed.
Benefits of blackout blinds
There are many types of commercial environment where blackout blinds offer an advantage. For work places that use computers, blackout blinds can reduce glare and therefore eye strain. In rooms where projects are used, be it a university lecture room or executive board room, blackout blinds can ensure essential information can be easily seen. For work environments where both noise and visual distractions are an issue, blackout blinds can be used to create a calm, quite space of focus. There of course many other, more specialist uses of blinds ranging from laboratories to photography studies where control of light essential for the task at hand.
For rooms where people are sleeping, such hotels or student accommodation, blackout blinds are essential. Maintaining darkness in a bedroom prevents changes to your internal rhythm. We need exposure to 'good' darkness at night for quality sleep and quality sleep is one of the most important factors when it comes to quality of life. If you've never used them before, you might be surprised at just how much light blackout blinds can block out and the impact this can have on sleep.
Many hotel rooms use large windows to make their space more pleasant and naturally this makes the control of light more challenging. Improperly fitted blackout blinds can prevent visitors from enjoying a proper night's sleep if light is a disturbance. Our blackout blinds are perfectly tuned for the space they're installed in you can expect no such issues. What's more, their specific fit will also boost the heat retention of a room, meaning reduced energy bills which can add up to a big saving over several rooms.
Saving money with blackout blinds
As well as being great for privacy in rooms where you value it the most, blackout blinds can also help you to reduce energy bills. The material they are made of helps to retain heat in colder rooms, and will reflect heat out of a room when it is hot outside and you want to maintain a cooler environment in your home. All of this means you can avoid wasting extra money on heating or cooling a room, and some studies suggest you could see a 25% reduction in an energy bill, as well as reducing your carbon footprint. This means you will quickly make your money back if you invest in quality blackout blinds.
We offer bespoke blinds as well as the "Rollbox" range of high quality technical cassette roller blinds specifically developed for every type of window including sloping skylights. If you'd like to take a look at our Mottura blackout blinds solutions, click here.
If you have any questions about our blackout blinds supply and installation services, or wish to get started immediately, please don't hesitate to contact us. Our friendly, Lancashire based team will be happy to help.
Unfortunately we are unable to work with installations which we ourselves have not supplied.
As part of our extended services we would be happy to advise and assist wherever possible. Many of our components can be adapted to suit non-Corona Contracts products. Please contact us to discuss further or to arrange for a site visit from one of our expert surveyors.
When correctly fitted to all windows our blackout blinds will prevent all light from entering a room.
Please contact us to discuss, if repair is impossible we may be able to fit replacement parts.
All of our products come with their own individual guarantees. Our installations are of the highest quality and do not generally require maintenance. If you feel your installation requires servicing we would be happy to help, so please contact us.
As much information as possible will help us (and you) to avoid any surprises! Your location, the size of the area to fitted, the access available to the area, the times the area can be accessed, the desired result e.g. sound insulation, blackout, your preferred material and finish, your budget, your deadline for completion. Please call us for a chat if you are unsure or would like advice.
We have extensive experience of working within commercial spaces and as such often work outside of traditional hours. Please advise us of access times when enquiring about your quote.
We provide a timescale with our quote. We aim to complete all installations as quickly and efficiently as possible, but please remember that in order to provide the highest possible standard of installation and reliability some projects can take several days to complete.
We have completed many successful projects in Lancashire, Cumbria, Cheshire, Merseyside, Greater Manchester, Preston, Liverpool, the North West and throughout the UK.
Our expert fitters are qualified to ensure health and safety compliance to the highest possible standard, both in the installation environment and in the performance of the finished product. We are also a CHAS accredited company.
We always provide a detailed quote before beginning work on a project. We only begin a project once the quote has been agreed and the contract signed.
In the vast majority of cases we can offer a fixed quote. Only in rare circumstances where the installation becomes more challenging than originally planned may we need to increase our cost. Rest assured we aim to be entirely transparent in this regard and we will discuss any possible issues which may may arise before a project begins.