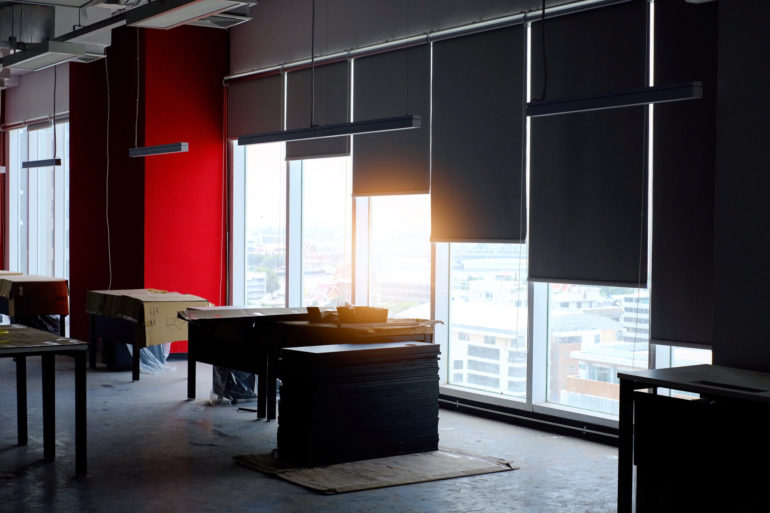 Corona Contracts have expanded their selection of made-to-order blackout blinds solutions to include blackout roller blinds. Get a perfect blackout every time with blackout roller blinds from Corona Contracts, designed in the North West by our in house team and built to the exact specification of your building for perfect fit and flawless blackout performance.
Premium quality blackout roller blinds
When it comes to blackout roller blinds, the manufacturing process must be controlled to the highest of standards to avoid light leakage when the final product is installed. With Corona Contracts, you are in safe hands. Every blackout roller blind we create goes through a three stage process to ensure the finish blinds are fit for purpose.
Designing roller blinds
First is the design process. Our in house team devises a design suited to our client's needs. We have worked with hundreds of different businesses, each with their own unique premises. No matter how unusual the windows in your building are, our experienced design team will come up with a roller blind design to fit.
Blackout roller blinds manufacturing
With the design complete the manufacturing can begin. Our manufacturing team are entirely in house, as are our designers. With the teams working closely together we're able to eliminate the chance of mistakes during the manufacturing process, meaning the whole process can move along seamlessly without costly and inconvenient delays.
Blackout roller blinds installation
When the blinds are complete our in house team will also handle installation at a date agreed to by the client. Our trusted installation team will arrive on time and carry out their work professionally and punctually, cleaning up after the work is complete, displaying appropriate signage and following all relevant health and safety procedures whilst on site.
Higher quality blinds from Corona Contracts
By controlling each of these stages in house we're able to create blackout roller blinds with a much higher fit and finish than can be found elsewhere. This approach is the most economical for businesses since products of such quality are fit to perform at a commercial level for many years without costly maintenance and downtime. In the unlikely event that there are any issues with our roller blinds systems you can rest assured that Corona Contracts absolutely stand by our products and provide some of the best aftercare services in the industry.
We have over a decade of experience designing, manufacturing and installing blackout blinds for businesses throughout the North West and surrounding areas. We understand that completing contract work on time and on budget is a top priority for all businesses we work with and our industry experience means we know exactly how to do so.
If you're interested in our made to order blackout roller blinds systems give our friendly team a call today to discuss how we can help.