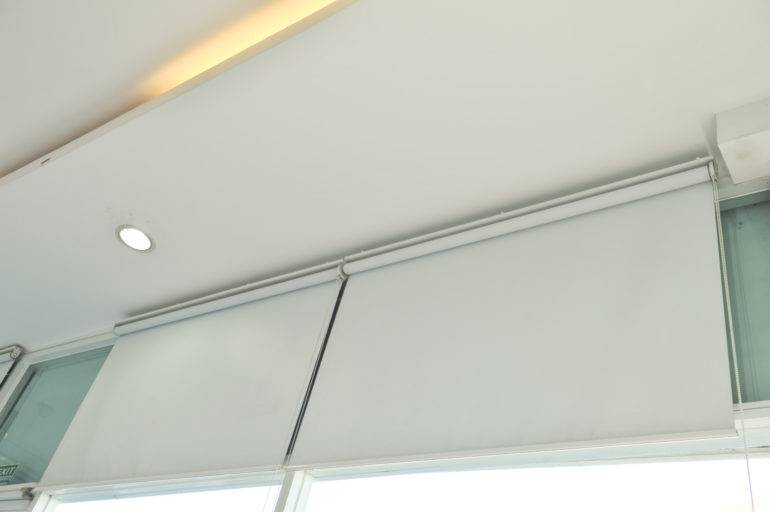 Our panel blinds supply and installation services are intended as a single solution to meet the needs of our clients. Working with Corona Contracts provides a streamlined order process covering the entire supply and installation of the panel blinds from start to finish. This makes all aspects of the acquisition process simple for our clients, offering directed communication with a single team covering design, manufacture and installation.
Our all in-house approach eliminates delays associated with co-ordinating work between multiple parties, a crucial point when supplying manifestations to commercial businesses. By operating in this way we can also ensure our products have the best possible fit and finish quality. With all of our teams operating from the same facility in Preston we ensure no miscommunication between departments, meaning our panels blinds are manufactured correctly every time, saving our clients both time and expense.
Design
Panel blinds are a great opportunity to make a statement about your business. Typically they will cover and space of several square metres, so it's worth giving the design a little thought to ensure they blend in well with the surrounding space. If you don't have any experience in this field of design, our in house design team are happy to present several options for you to choose from or to advise on the best approach dependent on your budget.
Working with your team
We work with businesses of many different types. Some have strongly established brand identities or existing interior design teams. We've experienced all sides of the design process so, just as we're happy to provide advice and direction, we're equally happy taking instruction from existing teams. If you have a rough idea of what you want but need support clarifying the technical details, we can take your concepts and help you realize them.
Functional design
You may wish for your panel blinds to be created to specific technical specifications. Our clients in the education sector often require blinds manufactured to very stringent health and safety standards, for example. Our anti-ligature systems can be implemented on request to ensure the safest possible operation.
Automated and remote control blinds
We also offer remote control and automated operation of our blinds systems. Not only is this visually impressive, it's especially useful for buildings with high ceilings and windows which are difficult to access by hand. We use only the best quality, Italian-made components from Mottura in these electronically controlled systems to ensure trouble free operation for the entire lifetime of the installation.
Manufacture
Our in house manufacturing team ensures that our work always stays on schedule. Drawing on their many years of experience manufacturing bespoke panel blinds, your manifestations will be crafted with the level of care and attention to detail that only an in house team could provide. If our clients request a specific type of material is used for their panel blinds we will source it from our range of stock to avoid any possible delays. We can also advise clients on the most appropriate material to use dependant on the planned use of the panel blinds and the budget of the client. Regardless of the choice made, all of our blinds are manufactured to the same exacting standards and high quality.
Installation
The date of installation will be specified in the contract. We understand that when working with businesses it is vital we remain on schedule to avoid causing disruption to either the operation of the business. When the day comes, you can expect our installers to arrive punctually and to carry out the installation in a safe and professional manner. We have previously worked with clients in both the health and education sectors and are fully versed in all required health and safety practises. Where needed, we'll carry out a risk assessment and display signage. Our engineers always clean up completely after the work is finished.
The fit and finish will be completed to the highest possible standards. Should there be any issues with a manifestation, our clients appreciate that we provide industry-leading aftercare services. If you would like any modifications to one of our panel blinds systems simply let us know and we'll do all we can to help. Please note we cannot generally modify panel blinds systems installed by other manufacturers.
Contact us
If you're interested in a panel blinds supply and installation service for your business don't hesitate to get in touch with Corona Contracts. Our blinds systems our built from the ground up to stand up to years of intensive commercial use and are always made to the exact specifications of our clients. Start arranging the panel blinds system your business needs at a price you'll love with Corona Contracts today.