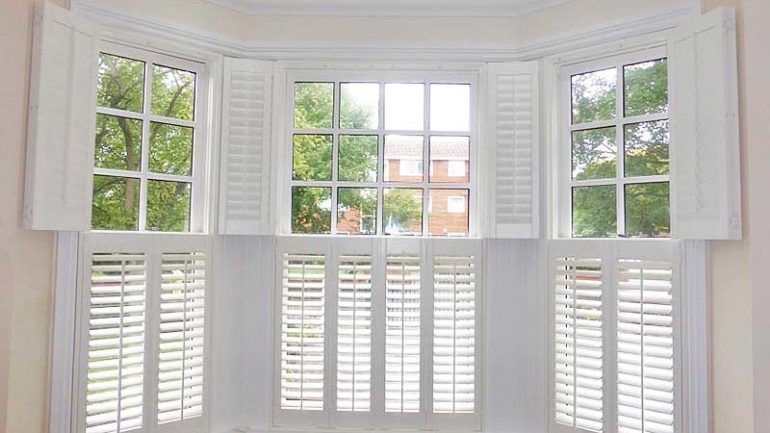 Differing from traditional blinds because they tend to have wider slats, like plantation shutters, plantation blinds are usually made from wood or faux wood and are available in a huge array of colours and finishes. Plantation blinds can add a touch of style to your home or business, lending an elegant and traditional feel to any room.
The difference between plantation blinds and shutters
Wooden Plantation Shutters and blinds are often mistaken for each other, but they are actually very different products despite obviously having similar functions. It's easy to see plantation shutters and call them plantation blinds because many homeowners are more familiar with the concept of blinds as a window treatment. Both designs have slats or louvres so you can control how much light is let into the room and they are easy to maintain and clean.
Plantation blinds come in all sorts of shapes and styles, with horizontal and vertical slats being the unifying feature. At Corona Contracts we can create bespoke products to your specifications. There are many different materials associated with plantation blinds, and we can work with you to decide which materials would work best where you're intending to install them.
In addition to their durability and privacy, plantation blinds come in a range of styles that make them a much more desirable option whether your home is a contemporary bungalow, an ultra modern high rise apartment or anything in between.
Why choose Corona Contracts?
With more than a decade of experience fitting every conceivable variety of blinds systems in business premises and homes throughout the North West, you can choose Corona for your plantation blinds installation safe in the knowledge that you will receive the highest standard of professional service.
Over the years we have completed jobs with all kinds of challenging requirements and have yet to encounter a problem we have not been able to solve. With much of our work coming from recommendations and repeat customers, we value the quality of our work and customer satisfaction above all else and strive for outstanding results in every job we take on.
We have plenty of experience installing in commercial and public institutions
One concern we often hear when working in commercial institutions such as hotels and schools is whether the project will be completed on time and on budget. We understand these concerns- many businesses only have a small window of time for contractors to complete their work and delays to the schedule can cause costly knock on delays in other areas.
With Corona Contracts you can be confident that you're working with an experienced, professional team with 10+ years of contracting experience. Our experience means we know all the pitfalls to avoid when taking on a new contract and can confidently deliver projects on schedule and on budget every time.
Our pricing policy is extremely fair and the quality of the fit and finish is outstanding. In the unlikely event that our clients have any issues with our products we aim for the same outstanding performance in our aftercare services too, so if you have any questions about something we've installed for you, simply pick up the phone and get in touch with our friendly team.
Interested in plantation blinds for your business? Work with Corona Contracts for a higher standard of fit and finish and save money with products which last longer. Give us a call today and find out how we can help with your business blinds or curtains.