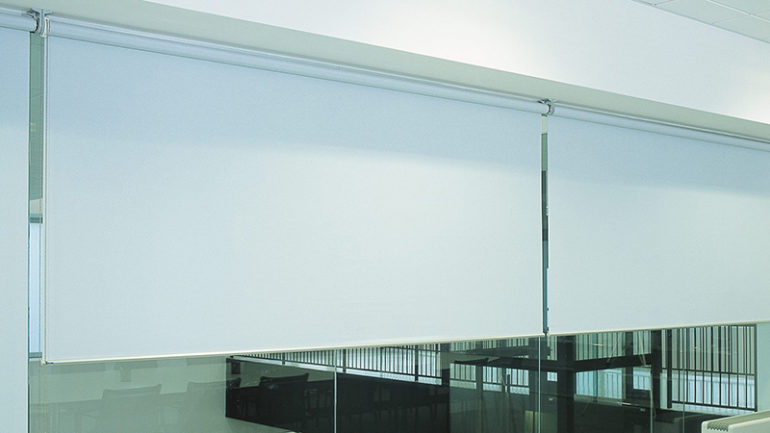 Add security, style and professionalism to your office with Corona's office roller blinds service
Want to make a good first impression for any prospective clients visiting your business premises? Do you want to make sure the efficiency of your workforce isn't adversely affected by their working environment? Read on to find out more about the benefits of our office roller blinds service.
Combining style with function
While window blinds are obviously a practical choice, they can also inject a bit of style into your office. With Corona Contracts, you can customise your window blinds as much as you want- just ask! We control every stage of the design and manufacture process, delivering bespoke products that perfectly fit the needs of our clients.
One of the main benefits of window blinds, and one of the main reasons why they're so popular, is how they allow you to have complete control over the amount of light penetrating a room. With a simple pull of a cord, you can let as much light into the room as you want. This also gives you the ability to reduce any glare, which can be a huge disruption in the workplace, ultimately hitting your bottom line.
Office blinds have been proven to reduce heat loss by as much as 58%, producing huge energy savings that really build up over the course of a year. As a method of heat and light control, it's clear to see that window blinds can help to significantly reduce energy bills, more than making up for the cost of installation.
Remote control with Mottura
Not only do motorised blinds lend an air of professionalism to a space, their low maintenance, low energy design means they're a joy to use and are appropriate for a huge range of venues.
Motorised blinds don't just solve practical problems, either. They can also impart a cutting-edge professional feel to a space and provide a time saving boost to productivity. In fact, our motorised solutions can be completely automated, so you'll never even have to lift a finger.
Mottura Roller blinds systems are produced using only the highest quality components, and they feature all the flare and sophistication you would expect from one of the world's leading manufacturers. These flexible window furnishings feature a wide range of control options, including the "M2Net" system. This is a range of products and software developed by Mottura for Automation Control which can be operated from a PC, tablet or smartphone. This allows you to operate your fixtures from anywhere with an internet connection.
Your business can benefit from a productivity boost since employees no longer need to leave their workstation and manually operate blinds, and you can also set them to be triggered by lighting conditions, blocking the light when a threshold level of heat from the sun is reached. Customers working in a presentation or public-facing environment are particularly appreciative of this as it offers an extremely convenient solution with minimal distraction to clients.
Our process
Working with Corona Contracts provides a streamlined order process covering the entire supply and installation of the blinds from start to finish. This makes all aspects of the acquisition process simple for our clients, as you'll be in contact with a single team covering design, manufacture and installation.
Our all in-house approach eliminates the type of delays associated with trying to coordinate different parts of the process with different designers and manufacturers, which is absolutely crucial when supplying manifestations to commercial businesses. By operating in this way we are able to ensure that our products have the best possible fit and finish quality.
All of our teams operate from the same facility in Preston, which ensures a high quality of communication between departments, meaning our electric roller blinds are manufactured exactly to the specification of our clients, avoiding added costs and guaranteeing that everything is installed on time.
Our blinds systems are built from the ground up to stand up to years of intensive commercial use and are always made to the exact specifications of our clients. If you're interested in any of our services, please don't hesitate to get in touch with Corona Contracts.