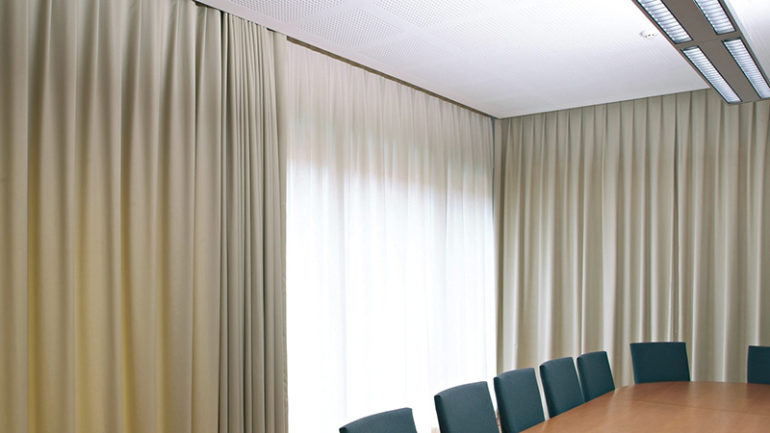 With a huge range of flame retardant fabrics to choose from, we custom make your contract and specialist blackout curtains to your exact specifications. Including photographic studios, laboratories, theatres, offices, board rooms hotels and more.
Blackout curtains are more popular than ever before, finding a range of uses within both business and home environments. At Corona Contracts we design and manufacture all of our blackout curtains at our facility in Preston, then install them ourselves for our customers. Because we control each stage of the process, we're able to provide the highest quality fit and finish available today.
Why blackout curtains?
Traditionally a staple of cinemas and upmarket hotels, curtains offering total blackout have grown in popularity and are now installed in many businesses and even residential buildings. The value of sleep should not be understated, but at the same time we all want access to as much natural light as possible. Blackout curtains offer the solution; allow all natural in when you want it then completely block it for deeper, more restful sleep. In order to be properly effective however, it is essential that these curtains are properly fitted to their installation space, which is why Corona manufacture all blackout curtains to order.
The benefits and uses of blackout curtains go far beyond better sleep, though. Offices and conference suites can benefit greatly from the light control they offer. We often work in offices which are fitted with floor to ceiling windows. Whilst these are visually very pleasing, they allow through such a huge amount of light that presentation screens, whiteboards and video conference equipment can be near impossible to use. Blackout curtains completely eliminate this light problem, allowing for increased concentration and focus and uninterrupted use of conference and office facilities.
To explore our range of Mottura blackout blinds, click here.
Why Corona Contracts?
Corona Contracts specialise in top quality blinds and curtains, made to order. Whatever your requirements we will always go the extra mile to provide the exact style of curtain you're looking for. Our products can be manufactured in a huge range of colours and even branded with your logo or business name for that boutique touch. Our expertise in light control systems means we can combine your blackout curtains with our motorised, remote controlled or automated track systems. Our team can also collaborate with your interior designers or architects, so however ambitious your project you'll find we are the perfect fit.
When manufacturing our blackout curtains we work with only the finest quality components, which means that all of our curtains are built to stand up to the rigours of commercial use and are intended to perform for many years. This approach saves our clients both time and money, since maintenance costs are zero and no time is wasted on repairs and refurbishment. In the unlikely event that something does go wrong, we also provide an outstanding aftercare service to all of our clients. Got a question about some blackout curtains we've installed or interested in modifying your current installation? Simply give us a call and we'd be delighted to help.
We can offer all other related items such as valances, pelmets, voiles, curtain tracks, electrically operated systems, anti-ligature and hotel curtains. Our curtain division workroom is able to cope with the largest and highest curtains with ease and to the highest standard. Whatever your blackout curtain needs, get in touch today and discover how we can help transform the light control in your premises.