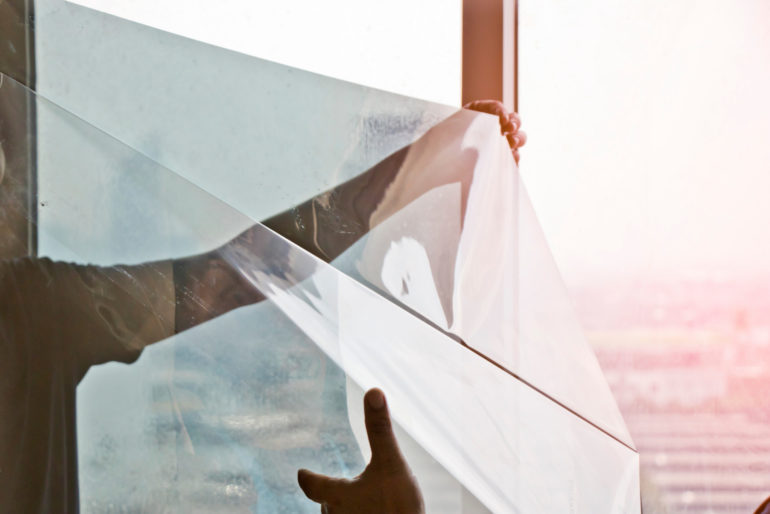 At Corona Contracts we provide an excellent office window tinting service, allowing our clients to benefit from the many advantages of technical window film, which include enhanced privacy and increased energy efficiency.
As an incredibly affordable solution to a number of problems that can arise in commercial environments, window tinting is one of our most popular services. Our window films are comprised of high-performance tinted plastic sheeting, manufactured to the exact dimensions of our client's window fittings. We offer many different styles of tint, from extremely light tinting, which lets approximately 95% of light through, to single-sided opacity, which is great when maximum privacy and security is required. Part of the beauty of this window tinting solution is its simplicity; as long as you get the measurements right, technical window film is very easy to install.
Office window tinting to combat glare and solar heat gain
Window tinting can reduce up to 85% of the heat from the sun, eliminate about 99% of harmful ultraviolet light and reduce 95% of the glare. Not only does this allow you to create an optimised environment for your employees and customers, it can also create huge savings when it comes to energy costs; maintaining heat in the winter and keeping it cool in the summer. All of this makes for a happier workforce and if your employees like the place they work in, they'll be more productive.
Highly customisable, branded office window tinting
Presentation is key in any business and you won't have a second chance to make a good first impression. Decorative window films can really enhance the look of your premises and set the tone for what kind of business you are.
Many companies like our technical window film because it is an extremely cost effective way to add branding to windows and glass surfaces. Since we manufacture and cut the film ourselves at our facility in Preston, we can etch any branding or design you would like into the finished product. Installation requires no special tools or equipment and since it's so cheap to produce it can be easily replaced too, a blessing if you ever decide to redesign the company logo or any other visual element of your branding.
Flexible
Technical window film can also be cut into specific shapes, which can then be used to create patterns and images on internal and external windows. When partial privacy is needed for internal office spaces this is a great solution, combining style with the need to create a practical work environment. When it comes to internal glass walls, sometimes blinds and curtains are either impractical or impossible to install. Technical window film provides many of the same benefits as these solutions while not taking up any additional space.
Business owners looking to tint their windows should look no further than Corona Contracts. With many successful projects carried out in Lancashire, Cumbria, Cheshire, Merseyside, Greater Manchester, Preston, Liverpool, the North West and throughout the U.K., we have all the flexibility and reliability that you look for in a contractor. What's more, if you need us to install your technical window film, all our staff are trained to the latest health and safety site regulations for working in a commercial space and will carry out an individual site risk assessment if required. We are used to installing in many different environments, so we're very sensitive to our clients' needs.
If you want to know more about any of our services, please don't hesitate to get in touch!
---
Frequently Asked Questions
All of our products come with their own individual guarantees. Our installations are of the highest quality and do not generally require maintenance. If you feel your installation requires servicing we would be happy to help, so please contact us.
As much information as possible will help us (and you) to avoid any surprises! Your location, the size of the area to fitted, the access available to the area, the times the area can be accessed, the desired result e.g. sound insulation, blackout, your preferred material and finish, your budget, your deadline for completion. Please call us for a chat if you are unsure or would like advice.
We provide a timescale with our quote. We aim to complete all installations as quickly and efficiently as possible, but please remember that in order to provide the highest possible standard of installation and reliability some projects can take several days to complete.
We have completed many successful projects in Lancashire, Cumbria, Cheshire, Merseyside, Greater Manchester, Preston, Liverpool, the North West and throughout the UK.