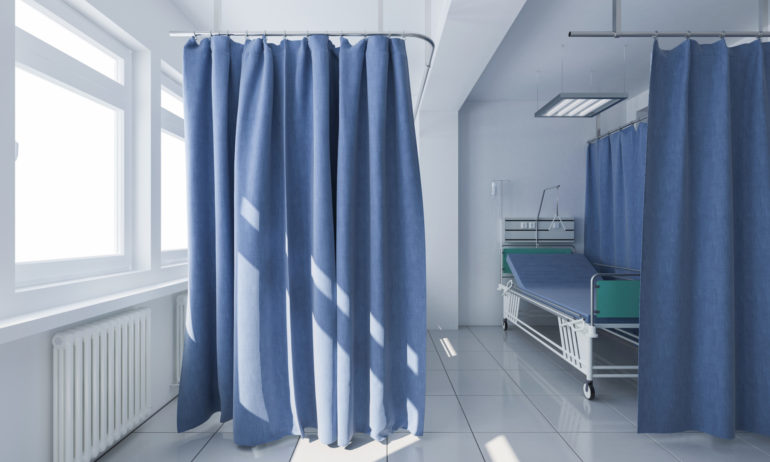 As a trusted contractor and supplier to the NHS, our Health Service Division is permanently engaged in the supply and installation of hospital cubicle tracks, medical curtains, blinds and insect screens to this sector.
The medical curtains we design, manufacture and install are a unique product, designed to adhere to the stringent and specific health and safety requirement of medical facilities. Our medical curtains are made to the most exacting standards so that when absolutely no compromise on hygiene can be made, we rise to the occasion with a product that performs.
Quality medical curtains from Corona Contracts
How can we be so confident in the quality of our medical curtains? We design and manufacture all of our products in house at our facility in Preston, which means we control every stage of the product pipeline. Because we don't outsource anything, we monitor each step of the process and easily catch any possible problems or errors before they make their way to the final product. What's more, we've been doing this for many years, which has given up time to refine and test new techniques before arriving at what we believe is the best possible workflow for each products.
Health and safety in our work and our products
Out medical curtains are designed to adhere to a high standard of health and safety and can be made bespoke to meet any non-standard requirements that your facility may have. It is not just our products, however that follow these high standards. Our engineers always follow best practices when working in public and medical spaces. Risk assessments will be carried out where needed and correct clothing, signage and identity information will be displayed at all times if required by the space in which we're working. We understand that medical facilities may require service work to be completed outside of regular office hours and always discuss these requirements with our medical clients so as to cause the least inconvenience to their daily operation. Of course, we will not bring loud, distressing or dangerous machinery into any medical facility and will thoroughly clean up after work has been completed.
Understanding the technical requirements
We have a clear understanding of the "anti-ligature" requirements in hospitals and schools along with an awareness of the need to provide "wipe clean" and "anti-MRSA" fabrics in vulnerable areas. Our installations always conform to the relevant health and safety standards appropriate to their installation including proper flame resistance. The shape and size of the install can be completely tailored to suit, meaning that specialist and non-standard areas such as operating theatres can be fitted without issue. Remote and automated operation can also be set up for areas where access is difficult or touch-based contamination may be an issue.
Get in touch today for experienced assistance in the supply, manufacture and installation of blinds for medical environments.