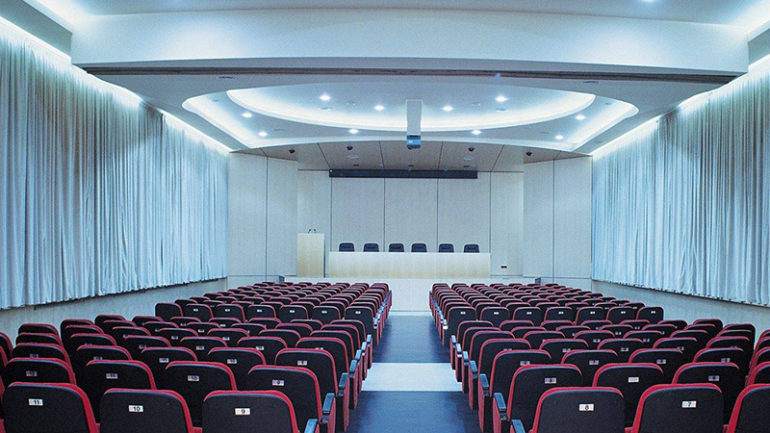 At Corona Contracts we have had the pleasure of working with public and private schools, colleges and universities for over 20 years.
These large buildings and institutions often have a huge range of specific requirements for their blinds and curtains. Many are historical structures, with windows that are extremely large and difficult to access, often with delicate features which must be preserved. Safety is also a key consideration when it comes to classroom curtains and blinds in particular. Our expertise means we are able to cater to these diverse and specific needs, providing bespoke blind and curtain solutions which look great, perform well and are built to last the lifetime of these busy spaces.
Blinds and curtains tailored to all educational spaces
We have carried out successful projects across Lancashire, Cumbria, Cheshire, Merseyside, Greater Manchester, Preston, Liverpool, the North West and throughout the UK. We have installed classroom curtains and blinds in learning spaces such as laboratories, lecture halls, research facilities and auditoriums. Our blinds are curtains are always adapted for best performance in the space they're installed in and can be further tweaked at the clients request. For example, drama classrooms and auditoriums often prefer curtains which reduce sound reflections, whilst some laboratories require blackout curtains. In each case, we carefully tailor and fit our products, from the design stage right through to installation, to meet the client's needs.
On time and on schedule
We have plenty of experience when it comes to fitting classroom curtains and blinds – particularly over school holidays – completing jobs that need to be finished within a strict time frame. If you run a school you know how important it is to hire reliable contractors to complete work that needs to be done, so you should look no further than Corona Contracts when it comes to blinds or motorised curtains. We boast a commercial blinds division which allows us to manufacture much of what we install ourselves, giving us complete control over delivery times and costs. By controlling each stage of the process we can guarantee customer satisfaction in our services.
At Corona Contracts we offer practical solutions to the type of interior design issues you might find in a school. We also work with interior designers and architects, so if you're planning a new building on an existing site we can get involved in the process at the earliest opportunity to find the light and curtain solution that will perform best in the new space. We install all types of commercial and medical blinds, printed blinds, curtains, curtain track systems, technical window films, privacy window films and customised manifestations (frosted graphics) in various buildings and institutions around the country. We also pride ourselves on not compromising on aesthetics. All of our products are customisable based on your requirements so that they fit perfectly into the environment in which they are installed. Our skills can go a long way to creating a pleasant and productive learning environment for children and teachers.
At Corona Contracts we aim to maintain an unrivalled service in everything we do. If you want to find out more about what we have to offer, please get in touch on 01772 616426 today!
Unfortunately we are unable to work with installations which we ourselves have not supplied.
As part of our extended services we would be happy to advise and assist wherever possible. Many of our components can be adapted to suit non-Corona Contracts products. Please contact us to discuss further or to arrange for a site visit from one of our expert surveyors.
We treat all our customers as top-level VIPs and as such cannot offer preferential discounts, but depending on the scale of the project we are open to negotiations, so please get in touch today.
Please contact us to discuss, if repair is impossible we may be able to fit replacement parts.
All of our products come with their own individual guarantees. Our installations are of the highest quality and do not generally require maintenance. If you feel your installation requires servicing we would be happy to help, so please contact us.
As much information as possible will help us (and you) to avoid any surprises! Your location, the size of the area to fitted, the access available to the area, the times the area can be accessed, the desired result e.g. sound insulation, blackout, your preferred material and finish, your budget, your deadline for completion. Please call us for a chat if you are unsure or would like advice.
We have extensive experience of working within commercial spaces and as such often work outside of traditional hours. Please advise us of access times when enquiring about your quote.
We provide a timescale with our quote. We aim to complete all installations as quickly and efficiently as possible, but please remember that in order to provide the highest possible standard of installation and reliability some projects can take several days to complete.
We have completed many successful projects in Lancashire, Cumbria, Cheshire, Merseyside, Greater Manchester, Preston, Liverpool, the North West and throughout the UK.
Our expert fitters are qualified to ensure health and safety compliance to the highest possible standard, both in the installation environment and in the performance of the finished product. We are also a CHAS accredited company.
We always provide a detailed quote before beginning work on a project. We only begin a project once the quote has been agreed and the contract signed.
In the vast majority of cases we can offer a fixed quote. Only in rare circumstances where the installation becomes more challenging than originally planned may we need to increase our cost. Rest assured we aim to be entirely transparent in this regard and we will discuss any possible issues which may may arise before a project begins.