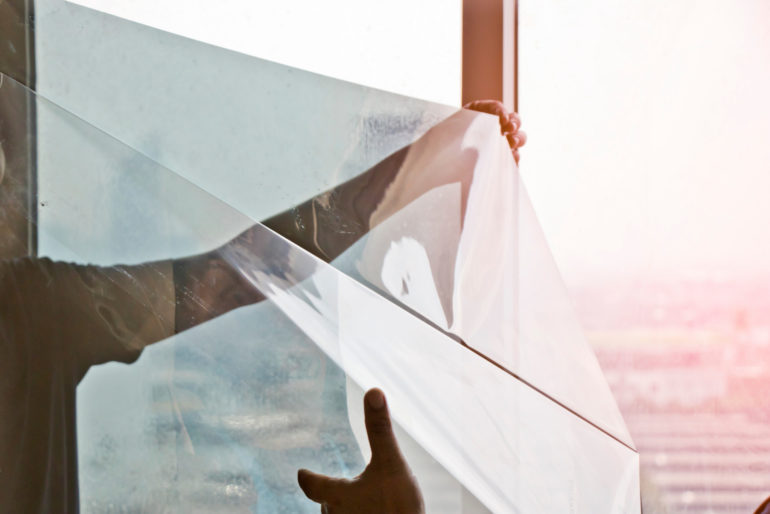 Technical and architectural window films are the perfect complimentary partner to our other divisions. They offer effective solutions to the issues of privacy, solar heat gain, glare and security in the office environment.
For situations where building, budget or environmental restrictions make alternative installation choices impossible, office window film may be the answer. Our window films are made from high-performance tinted plastic sheeting which is manufactured to the exact dimensions of our client's window fittings, meaning a perfect fit, every time. Different styles of tint are available, from extremely light tinting which lets approximately 95% of light through, to single-sided opacity which is great when maximum privacy is required.
Made on site to your specification
Many businesses like our office window film because it is an extremely cost effective way to add branding to windows and glass surfaces. Since we manufacture and cut the film ourselves at our facility in Preston, we are able to cut or etch any design of our client's choosing into its design. Our technical window film isn't just cost effective to produce though, it's also extremely easy to install. In fact, installation requires no special tools or equipment, so easy that many are able to achieve a professional result by themselves. Since it's so economical to produce it can easily be replaced too, so if there is ever a rebrand or redesign of the company visuals it's a simple and cheap fix with window film. The film itself is self-adhesive, so providing the original measurements are accurate and you have a steady hand, installation is extremely straightforward.
Reduce glare and solar heat gain
If a space has no room for blinds or curtains, our office window film can also be used to reduce glare and heat gain. If you have an office that suffers from blinding glare or high temperatures in summer you can save hundreds in air conditioning and blind fitting bills by simply installing technical window film. Different sections of windows can be covered in different opacities so that problem areas can be effectively tackled without losing the benefit and enjoyment of natural light altogether.
Custom cut
Office window film can also be cut into specific shapes, which can then be used to create patterns and images on internal and external windows. When partial privacy is needed for internal office spaces this is often the best solution. Generally with internal glass walls blinds and curtains are either impractical or impossible to install. A polka dot or striped coating of window film, for example, can effectively increase the privacy and separation of a space, without sealing it off entirely from the rest of the room.
Window films are extremely affordable, easy to install and can be supplied in a range of styles, from high transparency to complete opacity. The level of opacity has the most impact on solar heat gain and glare, and for situations where privacy and security is a top priority one-way mirror finishes are also available. Technical and architectural window films are available in a wide variety of shapes and sizes and are generally simple to customise to your needs. Please don't hesitate to get in touch if you're interested in discussing an installation for your business.